Kanyakumari is a stunning coastal city in Tamil Nadu, offering the perfect amalgamation of tradition and modernity, with churches and temples on one side and beaches and cafés on the other. There is much to explore for casual tourists and history buffs. The Vivekananda Rock Memorial is one such spot 500 meters away from the mainland. This place has both religious and historical significance and is scenically gorgeous. Whether you want to learn about Vivekananda Rock Memorial inside views, hotels near Vivekananda Rock in Kanyakumari, or Vivekananda Rock Memorial history, we've got you covered.
While you're busy exploring Kanyakumari, finding a hotel where you can come back to after a tiring day to relax and wind down is vital. We at Hotel Comorin Grand provide you with the best hotels near Vivekananda Rock in Kanyakumari, with budget hotel options and everything else to meet your needs and requirements. So, if you're looking for hotels in Kanyakumari, get in touch with us to make your trip to Kanyakumari more pleasant and comfortable. Visit us!
Vivekananda Rock Memorial History
Inaugurated in 1970, the Vivekananda Rock Memorial was built to honor Swami Vivekananda. The religious significance of this historical place is that the rock is said to have the imprint of Goddess Devi Kumari's feet, which is why it's considered holy. History says that it was in 1892 that Swami Vivekananda had visited Kanyakumari, just a couple of days before leaving for Chicago to attend the World Religious Conference, after which he revisited the rock and spent two days meditating at the spot.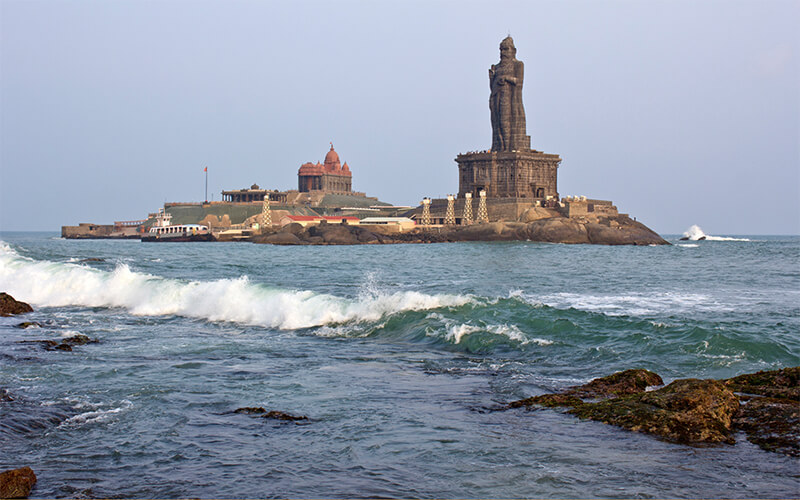 The idea for this architectural marvel came about in 1962, and it contains two main mandapams, namely the Vivekananda Mandapam and Sripada Mandapam. These have been constructed in a manner such that one can view Swami Vivekananda's statue directly from Sripadam. The entry fee for Vivekananda Rock Memorial is Rs 20 per person.
Visit Timings And Boat Service
The Vivekananda Rock Memorial visit timings are from 8 am to 4 pm from Monday to Sunday. It is open throughout the week for visitors and tourists. Timings of the Vivekananda Rock boat service are from 8 am to 5 pm every day. While the general two-way ticket costs Rs 50, the special ticket costs Rs 200.
Visit our website and give us a call to book your stay at one of the finest hotels in Kanyakumari.