Kanyakumari is famous for its pristine beaches, stunning sea views, historic temples, and nearby natural landscapes. To make the most of your vacation and tick all the boxes on your pre-travel checklist, book a hotel at one of the best outdoor dining hotels in Kanyakumari. At the Hotel Comorin Grand, we offer family hotel rooms in Kanyakumari. Visit us!
Top Reasons to Consider Hotel Comorin Grand
1. Best Rooms and Interiors
Rooms at Hotels Comorin Grand are designed with the most modern interiors and top-class facilities. The subtle tones of the bed's headboard, curtains, wall colors, and bedsheets will give you a cheerful ambiance. And to take advantage of the beautiful view from the window where you can see the nearby lake and greenery.
In fact, you can find comfortable family hotel rooms in Kanyakumari at Hotel Comorin Grand.
2. Facilities at the Hotel
You will be surprised to know the range of facilities available at such affordable costs. Here are the facilities offered at Hotel Comorin Grand.
Hygienic toilets
Coffee and tea-making facilities
Free wireless internet access
Flat-screen TV
Full marble bathroom with bathtub
Handheld ionic hair dryer
Individually controlled AC
Private garden with an outdoor heated pool
Private pool
Safety Deposit Box
Spacious veranda with hammock and sunbeds
Terrace with hanging chair
Minibar (at extra charge)
Restaurant
With such facilities, we're considered the top accommodation in Kanyakumari.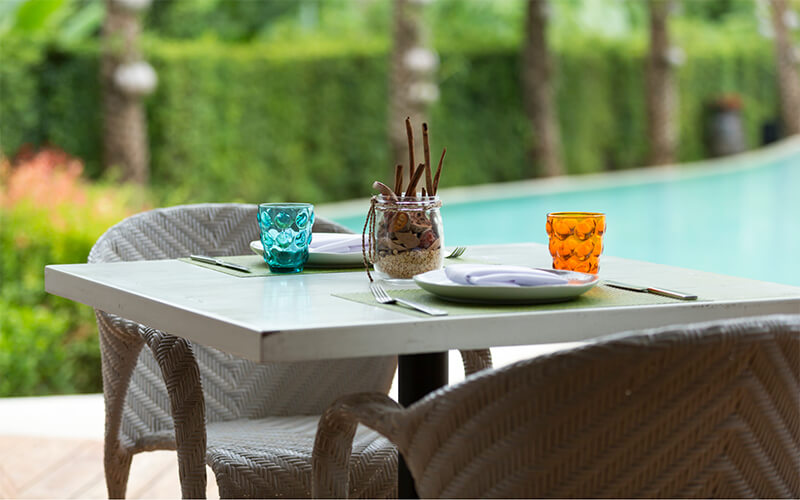 3. Best Room Service
The staff at Hotel Comorin Grand delivers the best customer-friendly service. From the time you check in, the room service will attend to all your queries and needs. You can avail of the room service round the clock. Undoubtedly, you can trust the Hotel Comorin Grand as the best full-service hotel in Kanyakumari.
4. Affordable Rooms Like No Other
We specialize in providing budget-friendly accommodations for pilgrims and tourists visiting Kanyakumari. But affordability isn't the only factor that helps us attract tourists. We provide the best facilities to ensure you have a comfortable stay when in Kanyakumari.
5. Parking Facilities
Hotel Comorin Grand has a spacious parking facility for cars and two-wheelers. So, guests don't have to worry about parking, and there is enough space even when all rooms are full.
Quick Fact
Hotel Comorin Grand is one of the few hotels near sunrise point in Kanyakumari.
6. Outdoor Dining Hotels in Kanyakumari
Hotel Comorin Grand is one of the best hotels in Kanyakumari, offering an outdoor dining option. Situated in a less crowded area, the restaurant is perfect for dining outside in the evenings. You also have an indoor restaurant where you can enjoy a range of foods. Having a restaurant in the hotel building is an added advantage for guests.
We take pride in becoming the people's choice for one of the best outdoor dining hotels in Kanyakumari.
Why Choose Us?
We've listed the top reasons to choose Hotel Comorin Grand. Now it's up to you to decide and plan your Kanyakumari vacation with us. To book your stay, contact us at +91 88254 66315 or book your rooms online.