Kanyakumari is a beautiful town famous for its mesmerising sunrises and sunsets. It's equally popular for its pristine beaches and abundant natural resources. It is a spiritual destination for millions of pilgrims, including Swami Vivekananda, who meditated on one of the many rocks in Kanyakumari. It is believed that he was inspired to dedicate his life to the service and welfare of the people after attaining enlightenment in one of the many rocks. If our city is on your itinerary, read what you must know before planning a trip to Kanyakumari.
1. When to Visit Kanyakumari?
Kanyakumari has an equitable climate throughout the year, with the rainy season lasting from June to September and continuing until November. While the city experiences heavy rains, it is still worth visiting. In fact, monsoon is the best time to visit Kanyakumari if you plan to see some of the city's best waterfalls.
Winter in Kanyakumari is from November to February, although it gets hot from January onwards. Naturally, winter is the best time to plan a trip to Kanyakumari with its breezy climate and mild temperatures that range from 25°C to 28°C.
Summer isn't bad because it is the time to experience Chitra Pournami – a unique experience where the sun sets and the moon rises from the same horizon.
2. What to Eat When in Kanyakumari?
Kanyakumari has a distinct culinary heritage that combines the best of Tamil Nadu and Kerala. While you can sample the traditional idli, dosai, and wada, it's also the best place to sample puttu with kadala curry, appam with chicken curry, parotta with beef stew, and even the legendary fish curry. You must try some local delicacies, including plantain, jackfruit, and tapioca chips.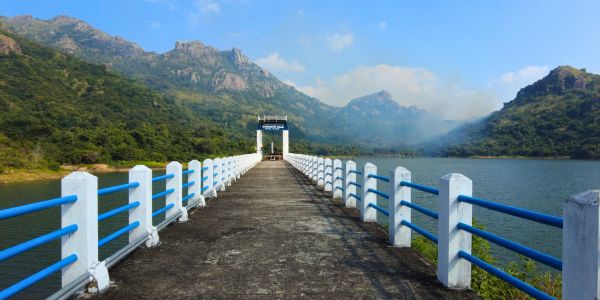 3. What to See in Kanyakumari?
Before you plan a trip to Kanyakumari, you must list places you mustn't miss. This includes Bhagavathi Amman Temple, Vivekananda Memorial, Thiruvalluvar Statue, Suchindrum Temple, Thiruparappu Falls, Mathoor Aqueduct, Padmanabhapuram Palace, Lemur Beach, Adi Keshavaperumal Temple, and sunrise and sunset on Kanyakumari Beach.
4. Where to Stay in Kanyakumari?
If you are looking for accommodations in Kanyakumari, visit Hotel Comorin Grand. We are a few minutes away from the hustle and bustle of Kanyakumari city, promising a quiet and relaxing stay. You can dine at Sree Aditti Bhavan, one of the best and most hygienic places in Kanyakumari.
Visit us to learn more about the city before you plan a trip to Kanyakumari. Call now to inquire about rooms in Kanyakumari.