Perhaps you have just started planning your trip to Kanyakumari and suddenly wonder what cuisine you can enjoy there. Located in Tamil Nadu, this serene coastal town has plenty of delicious dishes to offer its visitors and residents. From lip-smacking spices and delectable seafood to a plethora of vegetarian options, dining restaurants in Kanyakumari have endless varieties for you to discover.
And if you're looking for the best hotels in Kanyakumari for your family, visit us. At Hotel Comorin Grand, we provide you with the most comfortable stay on a budget. If you're looking for the best hotels in Kanyakumari for a family with a sunrise view, reach out to us, and we will arrange for something that best suits your needs and requirements. We provide our guests with multiple unique options, including outdoor dining, bicycle rides to enjoy the sunrise and sunset, and a view of India's second-tallest national flag. No matter what kind of hotels in Kanyakumari you're on the hunt for, we have something for everyone.
Famous Food Items to Experience in Kanyakumari
Here are some favorite food items you have to try during your stay in Kanyakumari:
Appam
Think of Appam as a pancake made using coconut milk and fermented rice batter. Soft and fluffy, appams are a staple meal in Kanyakumari. You can have it for breakfast or any of your meals and pair it with curry, vegetable stew, or even chicken and mutton dishes.
Avial
Avial is a medley of vegetables mixed with coconut and prepared in coconut oil. It is one of the most important meals of a sadhya – a traditional vegetarian feast served for weddings and other special occasions.
Pradhaman
Pradhaman refers to the kheer and is an important dessert in a sadhya. There are different varieties of pradhamans, viz., ada pradhaman, parippu pradhaman, ethapazham pradhaman (plantain pradhaman), and chakka pradhaman (jackfruit pradhaman).
Maravalli Kilangu
Tapioca is one of Kanyakumari's most popular items and cultivated plants. It's boiled and eaten plain with chili powder or with fish curry.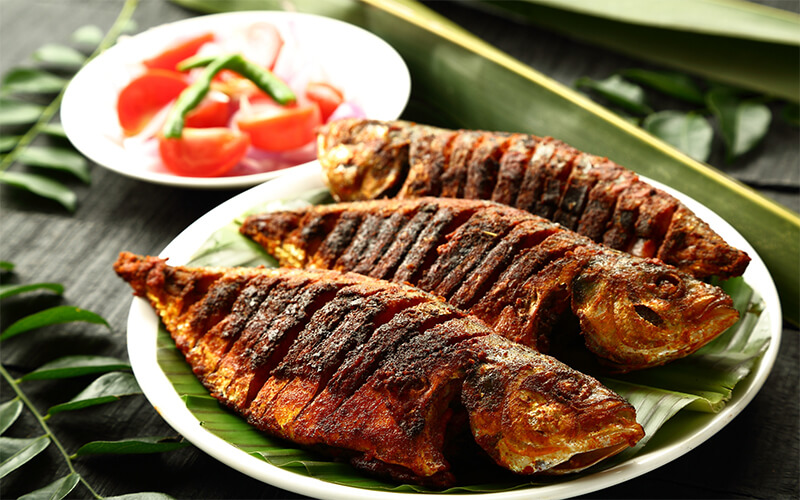 Nungu Sarbath
Since Kanyakumari is a coastal area, you can expect to feel the heat during the summer season in particular. To cool yourself off well, nungu sarbath comes as a savior. It is a drink made from palm fruits, and sugar syrup and served with chilled ice.
Pazham Bajji
Craving some tasty and crispy snacks during an evening in Kanyakumari? Get your hands on some pazham bajji and have it with a hot cup of tea. It is created using flour and ripe bananas.
Affordable And Unique Dining Options in Kanyakumari
If you're visiting Kanyakumari for the first time, don't forget to try some of the unique street food. From kothuparrota to parotta and fish sea platters, there are plenty of things you will surely be trying for the first time. For instance, if you're in Suchindrum, don't miss the chilli bhajji on one of the many stalls outside the temple. And if you're in Kanyakumari beach, don't miss the sundal and fish stalls that spring up late at night. And there are plenty of North Indian hotels offering authentic Bengali, Punjabi, and Marwari food on East Car Street.
Get in touch with us to explore high-quality Kanyakumari hotels near beach areas or budget hotels in Kanyakumari, depending on your requirements.