Are you planning a vacation where you can sit back and relax and explore historically rich and religiously significant places? Kanyakumari is where you should be heading! The city is located in Tamil Nadu and provides the perfect blend of beaches, temples, art, history, culture, and more.
During your stay in Kanyakumari, you would want to pick a hotel that is clean, budget-friendly, and welcoming. That's where our team at Hotel Comorin Grand comes in because when it comes to hotels in Kanyakumari, your search ends with us. Whether you're looking for hotels in Kanyakumari near the railway station, hotels near Kanyakumari Beach, hotels near Kumari Amman Temple, or family accommodation hotels in Kanyakumari, we have certainly got you covered.
What to Explore Near Kanyakumari Railway Station
Hotel Comorin Grand offers affordable accommodation options in Kanyakumari near the railway station, making it much easier for tourists to visit the many popular locations in the city. Two of the most famous sights to explore near Kanyakumari Railway Station are as follows:
1. Kumari Amman Temple
The Kumari Amman Temple is revered as one of the most sacred destinations in the whole world. Home to the Goddess Devi Kanya Kumari or the Virgin Goddess, it is one among the 108 Shakti Peethas, dating to over 3000 years. Along with the breathtaking architecture and the spiritual beauty of the temple, another element that magnifies its presence is the fact that it's located near the ocean.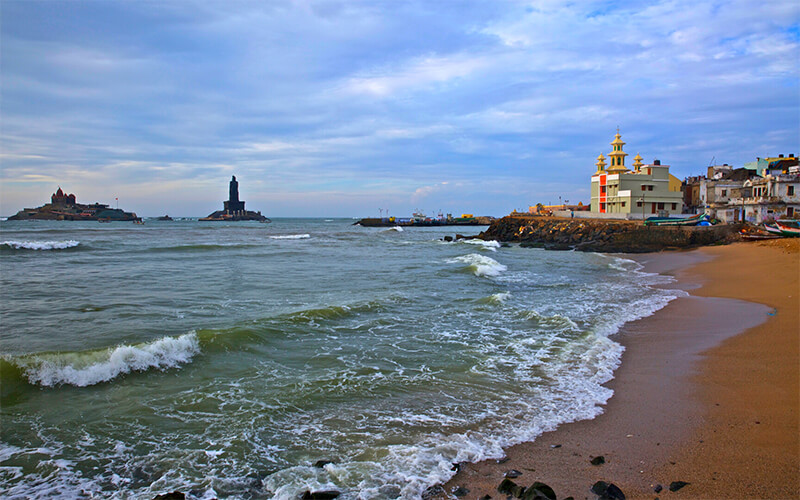 The presiding deity, Bhagavathi Amman, is famous for its sparkling diamond nose ring. Legend says that the nose ring was acquired from a king cobra. People also believe that the diamond shines so brightly that it was once mistaken for a lighthouse, and the ship ultimately crashed against the rocks. Due to these fables, the temple's eastern door is closed throughout the year, except for special events.
2. Kanyakumari Beach
While visiting Kanyakumari, it's an absolute must to experience the serene gorgeousness of Kanyakumari Beach, which was previously called Cape Comorin Beach. The multicolored sand found at the beach distinguishes it from the other beaches in the country, and when the sun glitters its rays on it, the view is something no visitor will ever forget. Another unique element about this beach is that it's situated right at the intersection of the Arabian Sea, the Indian Ocean, and the Bay of Bengal.
Visit our website and reach out to us to book your stay at hotels in Kanyakumari near the railway station. Our team will guide you through the entire process. We're just a call away from sorting all your queries about hotels in Kanyakumari. Visit us!