Kanyakumari, India's southernmost tip, is a captivating destination that beckons travellers for its unique blend of natural beauty and cultural significance. Three vast oceans – the Arabian Sea, the Bay of Bengal, and the Indian Ocean – converge, creating a mesmerising spectacle at sunrise and sunset. Visitors are drawn to the iconic Vivekananda Rock Memorial, a tribute to the renowned philosopher Swami Vivekananda, who meditated here. The tranquil beaches, such as Kanyakumari Beach and Sothavilai Beach, offer serene retreats. The town also boasts temples like the Kumari Amman Temple, showcasing the region's rich spiritual heritage. Kanyakumari is a place where nature, history, and spirituality harmoniously unite, making it an alluring destination for explorers. However, not many know it is an equally good place for shopping. Here are a few shopping places in Kanyakumari
1. Kanyakumari Bazaar
Kanyakumari Bazaar is located just behind the Bhagavathi Amman Temple and includes hundreds of stalls selling a wide range of products, including conches, different coloured sand, handicrafts made using palm, craftwork made using seashells, coconut and coir products, spices, dry fruits, wooden crafts, handloom sarees, and even handcrafted toys. Don't forget to buy mirrors decorated with sea shells and conches engraved with any name you choose.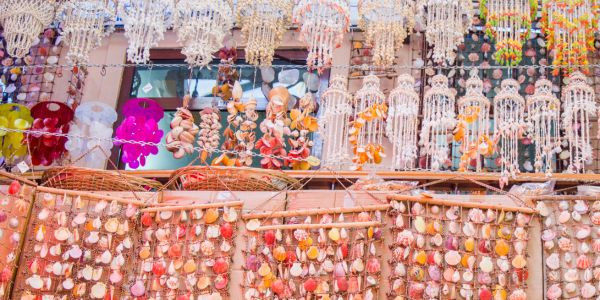 2. Kottar Utensil Market
This is one of the oldest markets in Kanyakumari, probably dating back hundreds of years. In fact, a few decades ago, this place was called Kaluthai Santhai, thanks to the donkey trading that once took place here. Today, the place is full of merchants selling brass, bronze, copper, and steel utensils. Besides utensils, you can buy lamps, temple items like bells, and even decorative statues.
3. Vadasery Market for Temple Jewellery
Vadasery used to be a tiny village on the outskirts of Nagercoil. One of the popular streets on the Vadasery Market is Asarimar Street, where hundreds of jewellers have set stalls and stores selling a wide range of products, including temple jewellery. The jewellery is made using silver as a base material and moulded to the desired shape. The designs are influenced by old temple architecture. The jewellery made here is exported to Western countries.
4. Ramalakshmi Sweet Stall
If you want famous things to buy in Kanyakumari, we suggest visiting the Ramalaksmi Sweet Stall. Some things you can buy at the shop include plantain chips, jackfruit chips, murukku, mixture, jaangiri or imarti, and palkova. It is one of the oldest sweetmarts in Kanyakumari, offering great products at the best prices.
5. Thovalai Flower Market
This is one of the largest flower markets thanks to the areas around Thovalai and Kanyakumari producing abundant flowers like mogra, lotus, marigold, and ranjigandha. You must visit the market even if you don't intend to buy flowers to witness the sheer energy, the colour spread, and the thick fragrance of myriad flowers. The market begins as early as 4 a.m., with flowers arriving from various states and being dispatched to multiple parts of the district, including Kerala.
Visit us to learn more about the different Kanyakumari famous items, including what to buy, when to buy, and how to bargain. And if you are looking for hotels in Kanyakumari, call us.