As the southernmost point of India, Kanyakumari is renowned for its Triveni Sangam the meeting point of the Indian Ocean, Arabian Sea, and the Bay of Bengal. It has spiritual significance and is the abode of the Goddess Kanyakumari. Did you know the Kanyakumari Temple is believed to be over 3000 years old and was built by Lord Parashurama? Read on to learn some interesting facts about Kanyakumari.
1. The Spripada Rock Could Have Been Part of the Gondwana Land
A proposed theory suggests that a supercontinent called Gondwanaland, incorporating present-day South America, Arabia, India, Madagascar, Australia, and Antarctica, could have existed around 180 million years ago. Some historians suggest that when this supercontinent began fragmenting into different land masses, the Sripada Parai on which the Vivekananda Memorial stands could have been the exact breaking point that earlier connected India to Gondwanaland. And that's probably why geologists call the rock Gondwana Junction it is at this place that India, Sri Lanka, Madagascar, Antarctica, and Australia were once connected.
The charnokite rocks that form the Sripada Parai are part of this land mass believed to be several million years old. The rock also finds mention in the Puranas, believing that the virgin goddess Kanyakumari performed tapas on one foot to appease Lord Shiva.
2. Kanyakumari Has Four of the Five Landforms
Tamil literature mentions five forms of landforms: Kurunji or mountains, Mullai or forests, Marutham or cropland, Neithal or seashore, and palai or dessert. Each of these landforms has unique characteristics and even has a dedicated god associated with the landform. For instance, kurunji is known to be associated with Lord Murugan, while mullai is known to be associated with Thirumal. Marutham is associated with Indiran, and neithal is associated with varunan or rain god. Similarly, palai is associated with the mother goddess.
Kanyakumari has all four of the five landforms. This is unlike anywhere in Tamil Nadu. We have mountains and forests, fertile cropland, and seashore.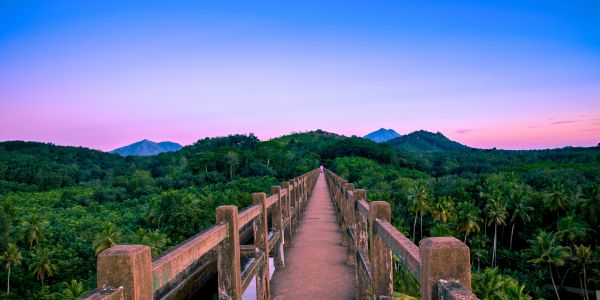 3. Only in Kanyakumari, You Can Watch the Sunrise and Sunset at the Same Time from the Same Horizon
Chitra Pournami is associated with Chitragupta, the younger brother of Lord Yama. It is believed to be his birthday and the day he forgives people for sins, they regret sincerely. On this day, the sun is on the Aries, and the moon is on Libra. On this day, in Kanyakumari, you can observe the sun setting and the moon rising at the same time and from the same horizon. Millions of people visit Kanyakumari beach to witness this celestial event and visit the Bhagavathi Amman Temple for the special poojas to commemorate Chitragupta's birthday. If you plan to visit Cape Comorin around this time, we suggest you call us earlier to book the best rooms in Kanyakumari.
Visit us or call us to book hotels in Kanyakumari. We promise a luxurious and memorable stay.