Kanyakumari is a beautiful city with plenty of attractions to visit and explore. Besides the Bhagawathy Amman Temple, Vivekananda Rock Memorial, Sthanumalayan Temple, and the Padmanabhapuram Palace, there are plenty of quiet natural attractions not known to tourists. For instance, the Kalikesam Forest is home to beautiful waterfalls and a calm river stream that flows through crevices and huge boulders. But not many people visit the place as it is nestled within the forests where wild animals frequent. Thankfully, there are many other places to visit near Kanyakumari, frequented by locals and tourists.
Courtallam
Distance From Kanyakumari
130 km – 3 hours by road
How To Travel
There are plenty of government buses from the Vadasery Bus Stand in Nagercoil. Alternatively, you can hire a private car or bus, depending on your group size. You can also book a train ticket from Nagercoil Junction to Tenkasi and take a bus or cab to Courtallam.
Courtallam is part of the Western Ghats and is famous for the waterfalls that apparently have medicinal values because they run through forests full of medicinal plants and herbs and is rich in copper. The Courtallam Falls includes nine falls: Peraruvi (Main) Falls, Citharuvi (Small) Falls, Iyentharuvi (Five) Falls, Puliaruvi (Tiger) Falls, Pazhaya Courtallam (Old Courtallam) Falls, Senbhahadevi Falls, Thaenaruvi (Honey) Falls, Gundaruaruvi and Pazhathottaruvi.
The surrounding forests are full of ancient temples and are believed to be the abode of several saints, including Agasthiyar. The Kutralanathar Temple is dedicated to Lord Shiva.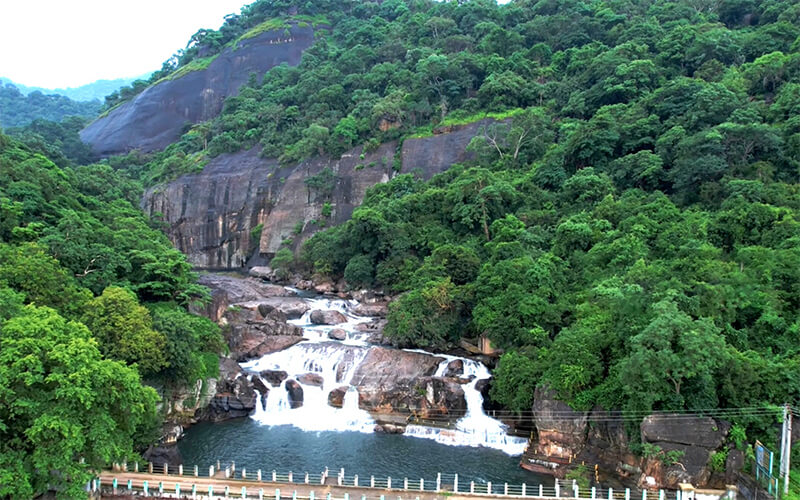 Papanasam
Distance From Kanyakumari
107.6 km – 2.5 hours by road
How To Travel
There are plenty of government buses from the Vadasery Bus Stand in Nagercoil to Tirunelveli. From Tirunelveli, you can take a bus directly to Papanasam. Alternatively, you can travel by private car or bus.
Papanasam or Pavanasam, is a small town famous for the Agasthiyar Falls. As the name suggests, the place is known to put an end to all sins. The waters of the Agasthiyar Falls are known to cure all ailments and cleanse us of all sins. It meanders as a stream into the Papanasam Dam and is frequented by wild animals, including tigers and panthers. Millions of devotees visit Papasanam for special puja at the Pavanasanathar Temple on the Thamirabharani River's banks. This temple is one of the nine Kailasha temples known as Surya Kailasha.
The Manimuthar Falls is a short distance from Papanasam and was created by the waters of the Manimuthar River. Similarly, the Papanasam Dam was built by the British to irrigate the rice fields of Tirunelveli and Tuticorin.
Manjolai
Distance From Kanyakumari
121.6 km – 3.5 hours by road
How To Travel
The best way to reach Manjolia Estate is by road.
The Manjolai Hill Station is part of the Kalakad Mundanthurai Tiger Reserve and is over 1160 meters above sea level. The place is famously called Poor Man's Ooty, thanks to its scenic tea estates and tranquil ambiance. Truth be told, Manjolai is much better than Ooty and is far less crowded. Some attractions in Manjolai include the Manimuthar Dam, the Kuthiravetti viewpoint (from Upper Kodayar Dam), and the Singampatti Palace. Thalaianai Falls, part of Kalakkad Forest Reserve, is also a nearby attraction that's around 50 minutes away from Manjolai.
Thiruchendur
Distance From Kanyakumari
89.7 km – 2 hours by road
How To Travel
The best way to reach Thirucendur is by road. There are plenty of government buses from the Vadasery Bus Stand to Thiruchendur. Alternatively, you can hire a private taxi or bus.
Thiruchendur is famous for the Subramaniam Swamy Temple and one of the six major abodes of Lord Murugan. Legend has it that it was here that Lord Murugan killed Soorapadman, a demon who waged war against the devas. The temple is believed to have been built over 2000 years ago and was once occupied by the Dutch, who tried and failed to flee away with two utsava murtis. Some of the other places around the Thiruchendur temple include the Valliamman Cave Temple and the Panchalakuruchi Fort.
Visit us at Hotel Comorin Grand, we help visitors explore around Kanyakumari District. We are one of the best hotels in Kanyakumari, offering sea-view rooms in Kanyakumari at the best rates.